AC-DC ADAPTER FOR VENDING MACHINES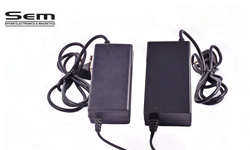 DESCRIPTION –
THESE ADAPTERS ARE DESIGNED TO MEET ALL TYPE OF POWER REQUIREMENT OF TEA, COFFEE OR ANY VENDING MACHINES.OUR ADAPTERS DESIGNS ARE BASED ON LATEST HIGH FREQUENCY SWITCHING MODE TECHNOLOGY DUE TO THAT OUR PRODUCTS ARE MORE EFFICIENT DURABLE, COMPACT, LIGHT WEIGHT & CAN WORK PERFECTLY IN ALL TYPE OF POWER & ENVIRONMENTAL CONDITIONS WORLD WIDE. WE USE BRANDED & TESTED RAW MATERIAL IN OUR ALL PRODUCTS.
OUR EVERY PRODUCT PASS THROUGH THREE STAGE PROCESS TESTS AND BURN TEST.
Main application- VENDING MACHINES.
Models Available-24VDC/3.5A, 24VDC/3.5AMP+12V/1AMP
SALIENT FEATURES-
Wide input voltage range (140VAC-280VAC) & 440V
Very Low no load power consumption.
Capacity to withstand starting high inductive load of vending machine motors.
Protections against- under-over voltage /over load/short circuit with auto restart on fault
Thermal shut down (140*C) with auto restart on cold condition.
Soft start & low inrush current.
Isolation up to 3kv for 5sec.time period.
High operating ambient temperature up to 60*C.
Highly efficient, compact, durable and long life.
Designed to meet safety requirement and standard EMC-EMI levels.
Fully water proof (model is also available on demand).
SPECIFICATION-
Model :SEM-2435VPS
ENCLOSRE :ABS PLASTIC
INPUT :140V-280VAC 47HZ-63HZ @4
Model :SEM-2412VPD
ENCLOSRE :ABS PLASTIC
INPUT :140V-280VAC 47HZ-63HZ @