Welcome to Shyam Electronics & Magnetics.
For order or enquiry call us – 9312407143.
Established in year 1996 with the aim to deliver high level of quality produts in power segment .
We are manufacturing "s.m.p.s based adapter, power supply, dc-dc convertor , battery chargers for different application in water purification, telecom & I.T, Electronics gadgets, weighing industries, control & instrumentation's, L.E.D lighting."
Our company has ISO 9001; 2008 & CE certification for our quality process & products. So that our products are acceptable internationally as well as in India.
Our development team has vision to develop products more reliable, power efficient and commercially acceptable as per international standards.
CERTIFICATIONS – ISO 9001:2008 AND CE.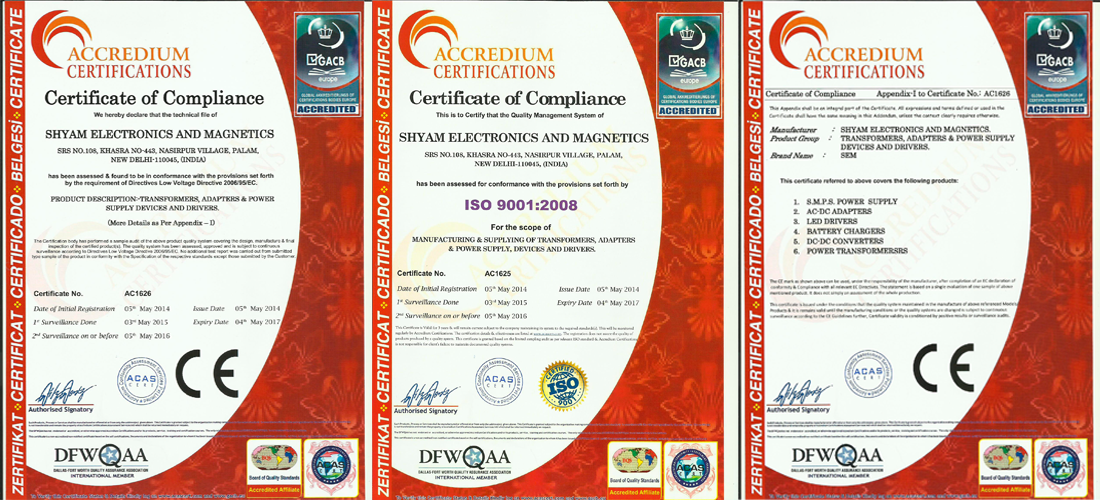 Under our dynamic and experienced entrepreneur, Mr. Devendra Chauhan, we have achieved a reputed position in the industry. His constant levels of focus and promise have enabled us to serve some of the reputed names of the industry.
Our Best Quality Products
In our team, we have the following professionals:
Quality controllers
Sales & Marketing experts
Office coordinators
While preparing the products, our diligent experts adhere to follow the prevailing international standards. Owing to their tireless efforts, we have been able to witness commendable success in the last few years